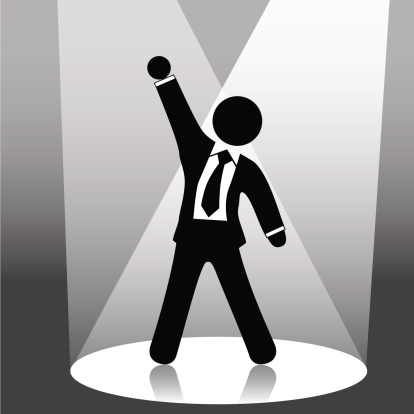 Public Speaking Simplified
Long term followers of this blog (thank you!), will already know I am passionate about helping people communicate. In fact, I wrote a piece about it some time ago – you can find it here. I find there are a lot of people teaching communication and public speaking skills, and all of them have some great messages and knowledge to take away and use. I love it when I come across a training or a workshop and I walk away with a feeling of "aha!". And that's what I got today when I participated in a workshop withMatt Church. Actually, it was more of an "AHA!" than an "aha!", to be honest. He really simplified a few things that I tend to turn around in my head way too much, and for that I am eternally grateful.
Body Language Simplified
Albert Mehrabian taught us that a large percentage of our message when we speak is non-verbal. An important point to note ahead of the "93% of our language is body language" is the statement that comes before this:
"when we are in rapport"
So… when we're catching up with a close friend and we're talking about how things are going at work, there's not as big a need to share all the facts and data about what is going on, who is doing what, what your responsibilities are. Firstly, a friend we are in rapport with will know most of that anyway. Secondly, and most importantly, we would only need to shift our gaze or move or bodies in a certain way, and they would "get" what was going on. Our friend may respond with "oh sweetie, I'm sorry things are so stressful for you"… And the conversation would continue. Possibly with cake. Or wine.
However… when in front of a room of 100 people, the chances are you are not in rapport with everyone. At least not all the time. So what you say becomes extremely important. Of course, using congruent body language with volition is still critical, but your message is more important. Is it just me, or is this a relief?
Your Audience Simplified
Some of you are probably a bit more advanced and may already know that body language is not as important as what everyone says it is. After all, crossing arms might mean you're just cold, or comfortable. Before you stand up in front of a room with your arms crossed, STOP. What this actually means is don't try and mind read your audience. We are so conditioned to watch TV at home, we have lost the ability to show our presenter just how engaged we are in their presentation. As speakers, we must not look at our audience and assume they are bored or not interested just because they are crossing their arms. We have no idea what could be going on for them in that moment.
However, all eyes are on you, so unless your body language is congruent to your message, the audience will not trust you.
Your Message Simplified
Another great learning from today was the importance of keep your message simple and focused on solving a specific challenge your audience has. I know I am guilty of including lots of content in my presentations because I might run out of stuff to say (hint: you can't), and of course, I want to deliver lots of value. The concepts of:
One key word
3 points
Address a problem or challenge
are definitely nuggets of gold I'm taking away and using. I'm looking forward to putting this into practice!
Another thing that blew me away today was a number of people I knew to be great speakers were there learning and taking notes. Wow. It just goes to show there is always something to learn.
What are your best learnings about public speaking?